Penguin provided this book in exchange for a review. I received no other compensation for this post.
While I love to read and review books, let's be honest. If we are talking about a kid's book, a kid's opinion is way more important than mine.
So here is Tucker's uncensored review of The Epic Fail of Arturo Zamora.
"The book The Epic Fail of Arturo Zamora was a pretty good book.
Arturo was a basketball-loving kid who spent his summer working at his family restaurant La Cocina de la Isla and eating ice-cream on the weekends. But this summer was different. His relatives came for a visit and one particular girl stands out.
His mother's goddaughter, Carmen. And when it seemed like Arturo's summer couldn't get any weirder a strange man named Pipo Wilfredo proposes to make a luxury resort with a gym and spa and apartments and much more. Pipo turns the public toward his plans by giving out free stuff and hold flashy festivals. But La Cocina de la Isla is not in Pipo's plans. Arturo has to save the town.
I enjoyed the book but at times it could be confusing because when they spoke in Spanish they would not always translate the phrase into English."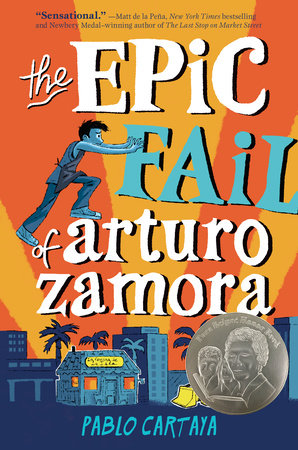 Me: Tucker, would you recommend this book to a friend?
I would recommend it but I prefer to read books with more action.
Me: What was your favorite part?
I like the part when he gave his speech that persuaded the people to vote against the Pipo Palace.
Me: Would you be interested in reading more books by this author?
Yeah, probably because I am looking for more books to read.
—
And in other news…we have some Good, Good News.
Watch this video:
Yes, my friends, we have received Good News.
Chuck and I will be grandparents sometime in November or December. 
You might notice I don't mention my adult children very often. That is because I write about my life here from my perspective…that and my adult children don't seem to be Chronic Over-Sharers like me. In fact, sometimes they want privacy.
Go figure.
But this news? It was too good not to share.